BEVERLY HILLS, CA (LA ELEMENTS) 9/21/2017 -"We have the chance to get our incredible pens in front of tastemakers and nominees and the people who really are creative and are shaping the written word across the United States. Here, we get to get our product in their hands," says Director of Marketing for Pilot Pen, Ariann Langsam, of Pilot's high profile role at the GBK 2017 Pre-Emmy Luxury Lounge.
Pilot Pen was the Title Sponsor of the GBK 2017 Pre-Emmy Luxury Lounge, which was held on 9/15/2017 and 9/16/2017 at the Viceroy L'Hermitage in Beverly Hills. Guests in attendance included Emmy Nominees Leslie Jones, (supporting actress in a comedy series, Saturday Night Live), Anthony Anderson, (lead actor in a comedy series, Blackish), Michael Kelly, (supporting actor in a drama series, House of Cards), Tituss Burgess, (supporting actor in a comedy series, Unbreakable Kimmy Schmidt) as well as actors from popular shows, Breeda Wool, (Mr. Mercedes) and Brett Dalton (Agents of Shield).
Pilot Pen's participation in this industry event comes easily to the company as they have also teamed up with one of the most acclaimed writers and producers on television, Shonda Rhimes."Shonda is our spokesperson and about two years ago, we were looking around for the right person the right fit for our G2 jelling pen, the #1 selling pen in the US," says Langsam.  "So we were looking at a few people and it turns out that Shonda uses the blue G2 that you see right there, and every single script in Shondaland had been marked up with a blue G2. So there are thousands upon thousands of script archived in Shondaland with all the notes in a blue G2. So it was such a authentic, organic fit, it was meant to be that we work together."
Pilot Pen selected "Modern Classics" as their theme. Guests of the 2017 GBK Pre-Emmy Luxury Lounge were invited to write inspirational messages with the best selling pen in the US, the Pilot Pen Vanishing Point retractable fountain pen. This pen is adorned with a 18 karat gold nib.
There was a lot of variety among the selected gift sponsors of this event. An exciting array of brands from emerging and established fashion, jewelry, travel and beauty companies were well represented. There were several outstanding charity sponsors as well.
Fashion Sponsors
Enrico Cuini launched his eponymous brand of all leather, special occasion shoes designed for style and comfort just earlier this year.
Texere Silk with its focus on nature based textiles was a hit with GBK attendees. "Eco-friendly fabrics like silk and organic cotton." says Texere Silk Associate Communications Coordinator Taryn Dooley, describing the materials used to create Texere Silk designs. "We sell a lot of sleepwear a little bit of causal wear and even some pillow cases."
Jewelry Sponsors
Eva Gems and Jewels "I used to be a lawyer, so it was quite a career change," says gemologist and founder of Eva Gems & Jewels, Eva Meijer. "I quit my job and decided to do something more colorful. So I studied gemology because I always loved fashion and color and sparkles." Eva offers ready-to wear as well as custom-made jewelry, utilizing a collection of beautiful and colorful gemstones such as aquamarine and golden sapphires. To order from Eva's collection or to consult for your own, original designs, contact Eva via email to set up a personal meeting.
Beauty Sponsors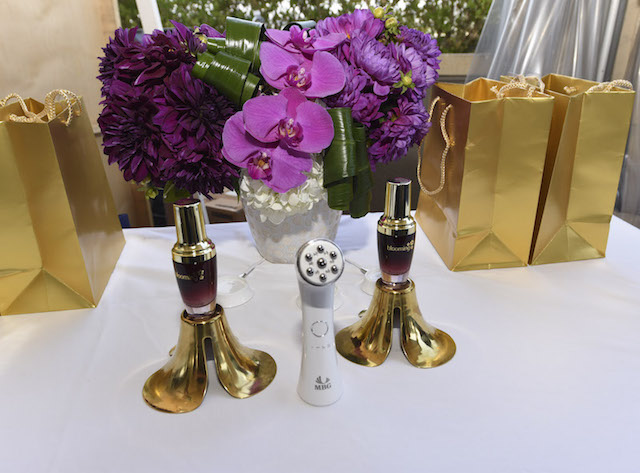 So many high-end spas use LED light to stimulate collagen production in aging skin. Thanks to Blooming, you can take the spa home with you. Blooming is a high frequency facial massager which in combination with their Phyto Serum, utilizes LED light that stimulate collagen, tightens skin and reduce wrinkles in the process. Blooming generously gave out gift boxes of their product to all attendees.
Burke Williams gifted luxurious 3 day spa passes and products from their H2V skincare line to VIP guests.
Travel
Siddhayatan Spiritual Retreat bestowed gift vouchers for a 3 day spiritual getaway. Yoga and meditation were among the activities that guests could opt to include in their gift package.
Caribbean Living Magazine gifted an all-inclusive trip to the Caribbean where guests could choose to stay at one of the magazine's three exclusive resort properties.
Philanthropy
James Grant, Director of the Animal Wellness Foundation animal rescue was on hand to talk about his organization. "We help low income families care for their pets when they can't afford to," says Grant. "It's a lot more cost-effective to help care for some animals in need than it is to have them displaced from their home and re-home them. We pull a lot of animals from shelters. Last year we rescued about 350 animals between cats and dogs and we homed them. And this year we hope to go over 400. We also do veterinary clinics, like shot clinics for the homeless in Venice. That's our local community."
Face Forward works with community leaders and organizations nationwide and globally as well, to identify and assist victims of violence. This non-profit offers legal assistance as well as medical assistance as needed.
International Society of Human Unity This non-profit organization recently produced the award winning documentary, Stopping Traffic. Stopping Traffic raises awareness about sex trafficking in the United States as well as many countries outside of the US.
We loved chatting with Kofi Nartey, who is a Certified Luxury Homes Marketing Specialist and the author of Sellebrity: How to Build A Successful Sports and Entertainment Based Business. What advantage does a buyer have when purchasing a luxury home from Nartey? "You don't have to worry about ANYTHING. We have teams to handle everything. Moving, vehicle transport, getting your place set up. We've had clients land in their new home and the dishes are already set up in the cabinet, their clothes are already folded and in their drawers."
What we've noticed over the years while covering GBK gifting lounges is how much fun they are. There's always a party ambience to their events and like most great parties, there were refreshments and music. Cali'Flour Foods served their delicious cauliflower flat bread pizza. Ving Vodka kept the drinks coming with their award winning kale, lemon peel and cucumber vodka. And Tessa Young from Prism Dj's,hit all the right beats with her crowd-pleasing selection of music.
Cover photo from left to right:  Jessica Graf from Big Brother and Shanola Hampton and Emma Kenney from Shameless.
All photos courtesy of GBK except where otherwise stated.
GBK, formerly GBK Productions is a luxury lifestyle and special events company specializing in entertainment marketing integration. For more on GBK please visit their site.
Follow LA ELEMENTS on Twitter and Instagram. Like us on Facebook.