LOS ANGELES, CA (LA ELEMENTS) 6/5/2017 – Summer is almost here and you know what that means-vacation! But what if you have the kind of work schedule that makes it next to impossible to get away for more than a weekend or maybe a "three day weekend" if you're lucky? You take it of course!   And you don't forget to pack these beauty essentials that are all nature based so your hair and skin can have a vacation too! You know, from all those heavy, artificially scented beauty products that really aren't doing you any favors no matter what the writing on the boxes are telling you. When you're packing for your getaway, you might want to add these products into your carry on and your beauty routine as well.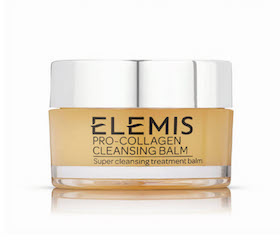 ELEMIS PRO COLLAGEN CLEANSING BALM
If you're used to washing your face with a cleansing cream, this is quite the different experience. I have to admit that I was a little hesitant based on the appearance alone. I predicted that it would be greasy and not so easy to rinse off completely. Wrong on both counts.
Just add water and the Elemis Pro Collagen Cleansing Balm not only deep cleans your face, but its gentle menthol essence gives you the sensation of being in your own private spa. My skin didn't feel tight at all and as a bonus, felt rather soft and smooth.
This cleansing balm not also nourishes your skin with powerful natural elements. Here are the key ingredients of the Elemis Pro Collagen Cleansing Balm:
Padina Pavonica This brown algae, is found in the Mediterranean Sea and Atlantic Ocean. Commonly known as Peacock's Tail, Padina Pavonica is renowned for its anti-aging benefits by stimulating the production of Glycosaminoglucan molecules, (GAGs). We produce these naturally every day but as we age, production slows down and moisture is compromised.
Starflower Oil is pressed from the seeds of the starflower plant and is a rich, natural source of gamma linoleic acid. Gamma linoleic acid, helps to maintain skin metabolism thus promoting good skin health. It's anti-inflammatory properties are especially great for reducing skin reddening.
Elderberry Oil The fruit extract of the black elderberry has high level of essential fatty acids and other micronutrients which serves to moisturize and naturally tighten skin.
All of this is available in a compact size (0.7 oz) that you can easily throw in your makeup bag.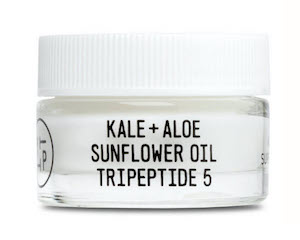 Next item on our list is from a brand we profiled in depth earlier in the year, Youth To The People. What can we say? We love brands that are committed to producing stellar natural and vegan skincare. Their Age Prevention Superfood Eye Cream sports its ingredients loud and proud: Kale, Aloe, Sunflower Oil, and Tripeptide 5, join forces to fight dryness, fine lines and wrinkles. Suitably lightweight for the eye area and of course, 100% vegan. At 0.5 oz. full size is the perfect travel size since it's small enough to fit into your makeup bag. It's silky smooth, creamy consistency means you need very little to complete the job. While eye creams in the past have made our delicate eye are break out, this one has not.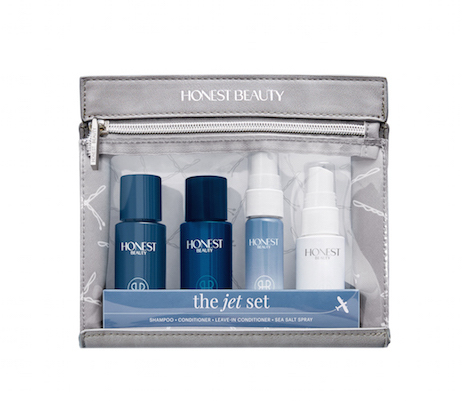 Honest Beauty Jet Set Kit
The Jet Set Kit comes from the Honest Beauty division of actress Jessica Alba's The Honest Company and consists of four mini-must haves designed especially for your hair, loaded with natural ingredients.
Beyond Hydrated Shampoo   As if the intoxicating citrus scent wasn't enough, this shampoo comes infused with coconut juice to provide vitamins for healthy hair.
Beyond Hydrated Conditioner   Coconut juice for the vitamins and nutrients, sweet almond oil for softness and shine – it's all good!
Beyond Hydrated Moisture Milk Leave-In Conditioner   Leave this conditioner in and watch your tangles go away.
Honestly Effortless Sea Salt Spray
While some might find the scent a little strong, you really can create those beachy waves effortlessly.
All of these products are sulfate and paraben free. The Beyond Hydrated shampoo, conditioner and moisture milk leave-in conditioner work great for normal to dry hair. The Honestly Effortless Sea Salt Spray is for all hair types.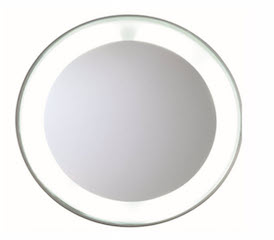 Now, wouldn't it be great if you had a makeup mirror that you could take on the road with you?
Tweezerman offers the LED 15x Mini Lighted Mirror
You didn't think that Tweezerman only made tweezers did you? This magnifying mirror is lit around its perimeter and has suction cups so you can attach it anywhere you please.
Now enjoy your getaway! You've earned it.
For more information on the products mentioned in this article, please visit their websites.
Follow LA ELEMENTS on Twitter and Instagram. Like us on Facebook.